Me?  Oh I'm fine, thank you…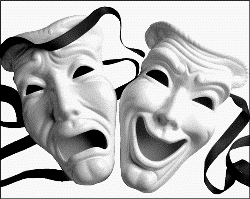 Do you ever feel like you're putting on a smile when you're actually suffering inside?  You don't want to let others really know what's what …it's hard enough acknowledging it to yourself.  But you just cannot get a handle on the anxiety, the nervousness, the panic attacks.  You've tried many ways to soothe yourself and, while they have felt good for a short while, the anxiety keeps coming "home" again.

Perhaps the anxiety only peeks its head out on specific occasions, at particular places or around certain people.  And you do everything you can to avoid being in those situations, which then causes its own problems…

Anxiety doesn't always look or feel "nervous".  Often it reveals itself through various coping mechanisms like overeating when you are not physically hungry, procrastinating doing important tasks, avoiding going places that you want to go, overdoing it on television/computer/or other substances…

And then there is the irritability that just keeps growing, moodiness that won't quit, or uncalled for anger…   You've had it.  You want to feel calmer, more positive, more motivated.  You want things to be different but you don't know how.

What if experiencing real and significant relief from problematic anxiety and stress were truly possible and doable?  With EFT (Emotional Freedom Techniques), what is impossible can shift.  What is enormously bothersome can transform.

♥♥♥
What next?
To get help reducing your anxiety, here are some suggestions:

• Sign up for the complimentary stress-reduction audio.  This way, you can listen and tap along with the recording as many times as you wish, enjoy some benefit, get a sense of tapping.  You will also receive helpful tips for reducing stress and anxiety and be kept informed about new classes and other offerings.
a
• Contact me for a complimentary phone chat which includes, if you wish, a mini-tapping session.  This is great if you would like a short conversation where you can ask me questions and see how EFT and I could help you.
a
• Purchase a tapping session to start feeling calmer.  The shorter sessions are great when you want or need immediate relief.  The longer sessions are great for in-depth work to clear out the contributing causes of the stress and anxiety.  This is the way to go when you are fed up feeling the way you do and want to give yourself the opportunity to feel much calmer and/or to transform some area of your life.
• Enroll in one of the group programs as they became available.  (You'll find out if you sign-up for the audio.)
And you don't have to wait either: I can design a personalized program for you and your family members/friends/colleagues.  Just let me know what your needs are and I will set it up.

♥♥♥
Sign Up Here!
Give yourself a little taste of releasing some anxiety, some overwhelm, some problematic stress…. right here.  As a thank-you gift for your email address, you can take this little stress-release audio along with you by downloading it and then uploading it to your ipod, phone, or whatever…. you could listen and tap along with it while you're sitting, or walking, or lying down in the hammock, or bed…. or wherever….

Beautiful. Loved it. As I tapped along during the "angry because" section, I had a list of things come to mind which was enlightening. A little emotional, too. And, I really liked the affirmation and acceptance phrases! Helpful, I think! Thank you for all the work in creating your practice and offering this audio. You are gifted!"   Marilyn Haverly
Save
Save
Save
Save
Save
Save
Save
Save
Save
Save
Save
Save
Save
Save
Save
Save
Save
Save
Save
Save
Save
Save
Save
Save
Save
Save
Save
Save
Save
Save
Save
Save
Save
Save
Save
Save
Save
Save
Save
Save
Save
Save
Save
Save
Save
Save
Save
Save
Save
Save
Save
Save
Save
Save
Save
Save
Save
Save
Save
Save
Save
Save
Save
Save
Save
Save
Save
Save
Save
Save
Save
Save
Save
Save
Save
Save
Save
Save
Save
Save
Save
Save
Save
Save
Save
Save
Save
Save
Save
Save
Save
Save
Save
Save
Save
Save
Save
Save
Save