Me?  Oh I'm fine, thank you…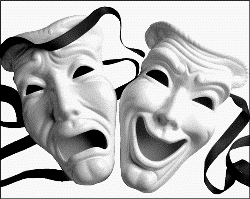 Do you ever feel like you're putting on a smile when you're actually suffering inside?   You don't want to let others know what's what…it's hard enough acknowledging it to yourself. 
There's so much good in your life that sometimes you even feel guilty that you feel like this.  Maybe you think that this is the way it is, the way it has always been, and it's not going to change.  Because you've tried and it hasn't worked.

Even if you engage in various healthful approaches and daily self-care, sometimes it's just not enough.   You've tried many ways to soothe yourself and, while they have felt good for a short while, the anxiety or overwhelm keeps coming "home" again.

Sweeping the issue under the rug or simply applying a feel-good temporary band-aid do not yield lasting positive results because they do not access and neutralize the root causes.
However, EFT (Emotional Freedom Techniques) does.  What is impossible can shift.  What is enormously bothersome can transform.

♥♥♥
Stress and anxiety can present themselves in so many ways, from full-fledged panic attacks to emotional overeating, to avoiding moving forward in your life or profession, to name only a few.  Why not give yourself the gift of guided EFT.   You may be surprised at how differently you could feel and what possibilities may open up for you.

Autumn Special! One free tea tapping session for new Blossoming Possibilities subscribers! When you sign up on my website through October 31, 2016 we will arrange a day and time for your tea tapping session!  (These are by telephone so location is not a problem) (Click here to learn more about tea tapping sessions.)
♥♥♥
Sign Up Here!
Give yourself a little taste of releasing some anxiety, some overwhelm, some problematic stress…. right here.  As a thank-you gift for your email address, you can take this little stress-release audio along with you by downloading it and then uploading it to your ipod, phone, or whatever…. you could listen and tap along with it while you're sitting, or walking, or lying down in the hammock, or bed…. or wherever….

Beautiful. Loved it. As I tapped along during the "angry because" section, I had a list of things come to mind which was enlightening. A little emotional, too. And, I really liked the affirmation and acceptance phrases! Helpful, I think! Thank you for all the work in creating your practice and offering this audio. You are gifted!"   Marilyn Haverly
Save
Save
Save
Save
Save
Save
Save
Save
Save
Save
Save
Save
Save
Save
Save
Save
Save
Save
Save
Save
Save
Save
Save
Save
Save
Save
Save
Save
Save
Save
Save
Save
Save
Save
Save
Save
Save
Save
Save
Save
Save
Save
Save
Save
Save
Save
Save
Save
Save
Save
Save
Save
Save
Save
Save
Save
Save
Save
Save
Save
Save
Save
Save
Save
Save
Save
Save
Save
Save
Save
Save
Save
Save
Save
Save
Save
Save
Save
Save
Save
Save
Save
Save
Save
Save
Save
Save
Save
Save
Save
Save
Save
Save
Save
Save
Save
Save
Save
Save
Save
Save
Save
Save
Save
Save
Save
Save
Save
Save
Save
Save
Save
Save
Save
Save
Save
Save
Save
Save
Save
Save
Save
Save
Save